"Love, Jacaranda" will sweep you away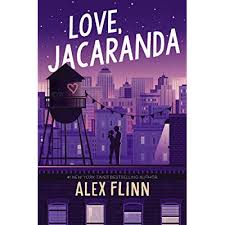 After Jacaranda Abbott sang her heart out for a customer at Publix, she completely forgot about the event. But the internet didn't. Another customer recorded Jacaranda and the video went viral, with millions of people across the globe watching and agreeing that she has talent. Her moment of fame becomes even more exciting when a mysterious, anonymous benefactor offers to pay Jacaranda's tuition to go to a private school dedicated to the performing arts. Taken out of her home state and comfort zone, Jacaranda must prove her mettle at her new school while juggling the secrets of her past, the competition, and a potential romance.
It's been a long time since a book completely and totally swept me away like Love, Jacaranda did. The premise of this book was intriguing, but my expectations were low going in. I'm so glad I gave this book a chance because it was a beautiful story that made me laugh, smile, and cry. Jacaranda felt like a very relatable main character for me, and I especially loved the format of the book. Love, Jacaranda is an epistolary novel, a book written like a diary through letters, or in this case, through emails. Epistolary novels are some of my favorites to read because it almost feels like they take out the mundane details of life which increases the pace of the story. It may be early in the year, but I can already tell that Love, Jacaranda will be one of the best books I read in 2021.