This Train is Being Held Review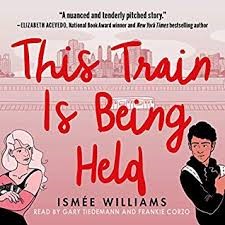 This Train is Being Held by Ismée Williams is the story of two teens weighed down by their parents' expectations. Dancing is Isa's passion, but her mother frowns upon it as a career. Alex is good at baseball and his father wants him to make it into a career, but Alex would rather be a poet. The two meet in the unlikeliest of places– the subway. When together, can they break down the barriers and expectations thrust upon them?
This book is available as an audiobook on Hoopla! The narrators do a great job of bringing the characters to life. The book itself explores what it's like to be a Latino in the United States, especially in the city. It also explores mental health, strict parents, and culture. It's an amazing story that will make you wish there were more books like it. I recommend this audiobook as a fun way to spend your time during quarantine!