To All the Boys I've Loved Before Series Review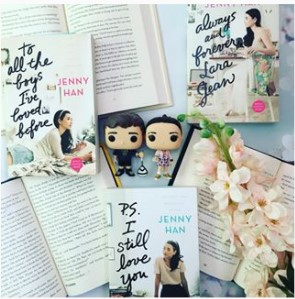 For many years, whenever Lara Jean felt the need to let go of a crush, she wrote a "break-up letter". She put the letter into an envelope and stored it in a hatbox in her room. The one thing that Lara Jean forbid herself from doing was actually send the letter. Somehow, years later, her letters do get sent though, and it all catches up with Lara Jean. Five of Lara Jean's crushes receive letters that contain her pent-up emotional baggage, years after she's let those emotions go. Lara Jean barely survives the embarrassment. Surprisingly, one of her ex-crushes, who also happens to be her sister's ex-boyfriend, receives a letter. Lara Jean makes a rash decision and claims that one of the most popular guys at school, another recipient of her letters, is her boyfriend. Although Peter, the "boyfriend," is reluctant at first, the two come up with a plan to "fake date." What they never planned for was their "relationship" to take a serious turn.
This book series was made popular by its movies, but it's beneficial to read the books even more. I was scared I wouldn't like the books, but I ended up binge-reading them. Lara Jean's story is unique and addicting – you won't find any characters like her or stories as gripping. Once you pick up the first book, you'll end up reading all three just for more of Peter and Lara Jean. The characters are funny, one-of-a-kind, and genuine. There's nothing that feels off or unoriginal about them. The plot leaves nothing to be desired – it's full of laughs and cries the entire way through. If you struggle to find books to read, and you enjoyed the movies, try the book series. You won't be disappointed.