Celebrate Valentine's Day with the Best Romances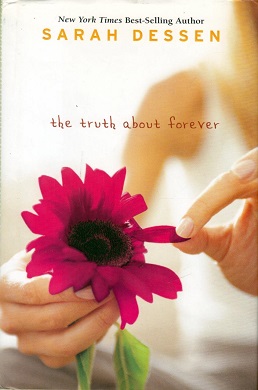 Celebrate Valentine's Day with the Best Romances
The Truth About Forever by Sarah Dessen
Macy's life is falling apart around her. It hasn't been long since the fateful day when she watched her father die, and her mother's health seems to be depleting. On top of that, she promised her now-ex-boyfriend that she would work his library job for him while he was away. Life has lost all its shine for Macy, until she gets a job with Wish Catering. The chaotic catering business couldn't be more of a mess if they tried! Yet somehow, it helps Macy recover. She just needs to keep her job a secret from her mother who doesn't approve of the sloppy caterers.
This was such a beautiful and perfect story. I've never felt a "book hangover" as powerful as the one I had after this. Wish Catering truly was chaotic, which made for many funny accidents. Don't even get me started on the characters themselves. Wes was one of the best, with his protectiveness towards his brother and his artistic side. I haven't read any other Sarah Dessen novels for fear that they won't be as good as this one!
Prince in Disguise by Stephanie Kate Strohm
Dylan has always dealt with being the "lesser" sister. After all, it's difficult to compete with the former Miss Mississippi. Life finds a way to get increasingly difficult when Dusty, Dylan's older sister, wins the new reality TV show Prince in Disguise. Now Dylan is stuck in a freezing old castle in Scotland until wedding day. Thankfully, the nerdy and adorable Jamie is there to make all Dylan's boredom disappear. Not even Jamie can help, though, when plot twist after plot twist is added to the "reality" TV show which now seems to be less hilarious and more horrifying.
I don't think I've ever been so addicted to a book in my life! Prince in Disguise was every book nerd's dream. Not only was the main love interest a book nerd, but he was funny too! I'd love to find me a guy half as perfect as Jamie was. He wasn't even the best part! You'll feel as if you really are on a reality TV show when reading this book. There were so many twists and turns in this book; never a dull moment! I highly recommend this book to royal watchers and anyone looking for a book that will make them laugh.
The Geography of Lost Things by Jessica Brody
Ali wants nothing to do with her father. Even though he just died, she can't be swayed from her new mission; sell his stupid car. The only problem in her plan is that she must drive the car hours away – and it's a stick shift. The only person around who knows how to drive a stick shift is her ex-boyfriend Nico. How long can she endure his company? How far is she willing to go to rid herself of the car?
This is probably one of the most unique concepts for a book I've ever heard of. The author successfully pulled it off – you'll hear no complaints from me! As Ali and Nico travel and meet more people, the book gets more exciting and intriguing. I've never read a book quite like this one! I recommend The Geography of Lost Things to those looking for fresh material.