Eagles 2020 NFL Draft Grades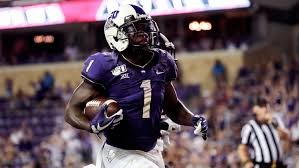 The Eagles finished the 2020 NFL Draft on Saturday, picking the ten players to help propel them in their quest to win a second Super Bowl. The completely virtual draft experience saw the Eagles make some solid picks…and some surprising ones.
Round 1, Pick 21: Jalen Reagor, WR, TCU
The Eagles picked Jalen Reagor, the speedy receiver out of TCU. Face value, Reagor is a great fit in the Eagles' offense. Reagor, who had an underwhelming official 40-yard dash time, ran an unofficial 4.22 time at his virtual pro day, which is ridiculously fast. Reagor fits well in an offense with two big targets over the middle (Zach Ertz and Dallas Goedert) and Miles Sanders coming out of the backfield. The main drawback of the pick is the Eagles' failure to trade up and select CeeDee Lamb (who many consider the best receiver in this class) and passing on LSU standout Justin Jefferson. However, I think this pick has the potential to be a homerun for the Eagles offense.
Grade: A-
Round 2, Pick 53: Jalen Hurts, QB, Oklahoma
This was easily the biggest surprise of the Eagles draft. With players at positions of need across the board, the Eagles selected Jalen Hurts, the Heisman runner up from Oklahoma. This pick was questionable, with a high pick being spent on someone likely to be insurance for Carson Wentz should he get hurt (again). Face value, picking a backup for the so-far injury prone Wentz is good, but not this high. Hurts has the potential to be a solid pick, but this was too early for a backup QB to go.
Grade: C-
Round 3, Pick 103: Davion Taylor, LB, Colorado
Davion Taylor is a great pick for the Eagles' defense. Linebacker is the biggest need on this Eagles' defense, and Taylor fills a great role for the team. He ran a 4.49 40-time and has raw athleticism that could make him something special. Taylor is a developmental project, however, and it will take some time before he can make a serious impact. This was a great pick in the third round to fill a huge need for the Eagles.
Grade: B+
Round 4, Pick 127: K'Von Wallace, S, Clemson
K'Von Wallace is the best pick from the Eagles draft class. More speed on the defensive side of the ball, with huge potential. He developed quickly at Clemson, and fills another need for the Eagles, with the future of the safety position in doubt after the departure of Malcolm Jenkins. Check out my other article here for more of my reasoning about why Wallace is the best pick from this class for the Eagles.
Grade: A
Round 4, Pick 145: Jack Driscoll, OT, Auburn
The athletic tackle out of Auburn has starting potential but will likely fill a backup role. He's not as strong as most scouts like for a tackle. However, he has great athleticism for the position. Many scouts could see him being a guard at the pro-level, where he'll likely sit behind Brandon Brooks and develop. This was a solid pick, but likely won't be anything special.
Grade: B-
Round 5, Pick 168: John Hightower, WR, Boise State
Hightower was an overall solid pick to fill depth at the WR position. Hightower is explosive, and keeps with Roseman's theme of drafting speed, as Hightower ran a 4.43 40. He has great potential as a kick returner and can be useful in gadget plays. Hightower will likely fill a backup role on the squad but has serious potential to be a Tyreek Hill type threat on the offense.
Grade: B+
Round 6, Pick 196: Shaun Bradley, LB, Temple
The Mount Holly, NJ native and Temple LB Shaun Bradley has the potential to be one of the best picks from this class. He has tremendous value from the 6th round and could be a starter in a year or two. Bradley has some pass rushing flaws and is undersized for the position but has potential to be successful with good developmental coaching.
Grade: B+
Round 6, Pick 200: Quez Watkins, WR, Southern Miss
Watkins is fast. Very fast. He ran a 4.35 40 and has great contested catch skills. He hasn't played the best competition and has issues against creating separation. Watkins has solid potential and could be a great receiver of the bench. He has a solid chance of being the 6th receiver on roster.
Grade: B
Round 6, Pick 210: Prince Tega-Wanogho, OT, Auburn
Tega-Wanogho has one of the best stories in this draft, growing up in a Nigerian village and moving to Alabama on a basketball scholarship. He has great potential and was a 3rd-4th round talent before sliding after being marked with a knee issue at the combine. This was a homerun pick for the Eagles, and he has a solid chance to start in the near future. With just a little bit of development (from one of the many players on the O-line that could mentor him), he could be a great player.
Grade: A
Round 7, Pick 233: Casey Toohill, OLB, Stanford
The San Diego, California native has great special teams potential (he blocked two extra points for the Cardinals) and is a great pass rusher. His run defense ability is underwhelming and doesn't quite have enough muscle to be successful at the pro-level. Within a year or two, Toohill could turn out to be a great pick, but for now, he's a backup DE/OLB and special teamer.
Grade: B