Best Eagles' Pick from the 2020 NFL Draft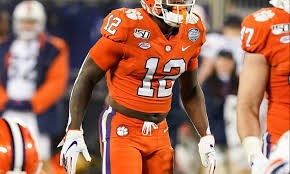 The Philadelphia Eagles went in to the 2020 draft looking to add speed to their roster. And despite some questionable picks, they accomplished this goal. Although there were plenty of solid picks on both sides of the ball, there was one pick that stood out from the rest as one that has the potential to be talked about for years to come.
K'Von Wallace, the safety out of Clemson, was taken with the 120th pick in the draft. The quick, aggressive player showed that he has the potential to be amazing at the next level with a great combine and flashes of greatness in college.
This pick has the potential to provide something that the Eagles' lost by moving on from Malcolm Jenkins in free agency: leadership. Wallace became a leader at Clemson, which shows that he has the confidence and attitude necessary to lead a young Eagles defense into the next decade.
Not only does Wallace have the intangibles to be successful at the NFL-level, he has the physical skills to match. Scouts called him potentially the best tackler in this class at the safety position. He ran a 4.53 40-yard dash. He has amazing blitzing capabilities and is great in press coverage. Wallace has incredible upside, with the potential to be a perennial Pro-Bowler and a staple of the Eagles secondary.
There are some concerns that scouts had with Wallace, but they're all things that can be developed at the next level. His man and zone coverage can be improved, but that can be accomplished with improvements to his technique. His aggression sometimes results in missing plays, but that's something that can be coached away.
There were some solid picks in Eagles' draft class, but K'Von Wallace stands alone as the best pick from the class.