Book Review: Tweet Cute and How to Speak Boy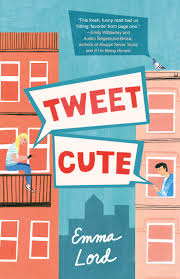 Happy New Year and welcome to 2020. What better way to ease into the brand-new decade than by reading some of the newest books it has to offer? If you're looking for something a bit more modern, try these two January releases.
Tweet Cute by Emma Lord: Pepper's family owns the Big League Burger franchise and is constantly under pressure from her mother to run the company's Twitter account. Jack's family owns a small sandwich shop which is running low on money, and he too feels pressure to someday own the place. When the two businesses get into a viral Twitter war, both teens find their lives flipped upside down. The war quickly gets out of hand and neither want to continue with it as their friendship grows. Will they be able to escape the expectations of their parents, or will the Twitter fiasco swallow them whole?
How to Speak Boy by Tiana Smith: It's Quinn's dream to be the captain of the debate team, so it's a huge surprise when she ends up co-captain with her worst enemy. Her world gets even crazier as she finds herself falling for the previously mentioned enemy. The only thing that gets her through these confusing times is her anonymous pen pal and fellow student. Soon her questions take control, though, and she needs to decide whether she wants to learn her pen pal's identity or not.
I received advanced copies of both books and was pleasantly surprised. Both books feature the anonymous pen pal element like Tell Me Three Things by Julie Buxbaum and Alex Approximately by Jenn Bennett. The characters are hilarious and the situations they find themselves in are unique. If you're looking for a cute romance with a modern feel to it, you're in the right place. Celebrate the start of a new decade with laughter and curl up with these two books.