Book Review: Slippers and Thieves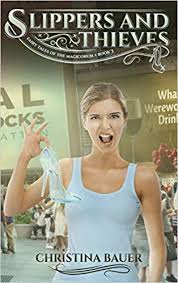 In Slippers and Thieves readers learn about the past of Elle, a modern Cinderella, from the Fairy Tales of the Magicorum series. The book begins with secrets of Elle's past and an interesting encounter. Then the book switches to modern day and readers watch as Elle and her prince charming fight to be together. The whole book is thrilling and presents a new, sassy Cinderella who writes her own story. Although it is part of a series, this book can be read as a standalone.
This world is full of underrated authors and Christina Bauer, author of Angelbound and Wolves and Roses, is certainly one of those authors. As a fan, I can say that Slippers and Thieves is her best yet, and you won't want to miss out on the action and romance.