Jannette Rallison's Books Review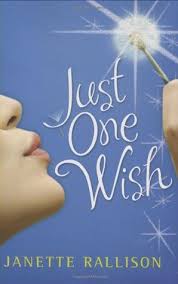 Helene Horan '22, Writer
December 20, 2019
Are you looking for a hilarious and lighthearted book that will have you laughing until you cry? Janette Rallison, author of Just One Wish and My Fair Godmother is one of the hidden gems of the young adult genre. Her books, especially Just One Wish, are some of my absolute favorites. She never ceases to have me laughing until it hurts.
For fairy-tale lovers, My Fair Godmother is the perfect book. The series is about a
fairy-godmother-in-training, Chrysanthemum Everstar, who is failing in her training. The poor girls she sends into fairy tales are unfortunate, but it does make for a fun adventure.
If you're looking for a more contemporary but lighthearted novel, How to Take the Ex- Out of Ex-Boyfriend may suit you better. It's the story of a girl who regrets breaking up with her boyfriend and will go to wild lengths to get him back. This story is probably one of her best contemporaries.
If you're looking for something a bit deeper, Just One Wish will quench your thirst. This book is one of my all-time favorites, about a girl who will do anything to make her younger brother's impossible wish come true before he has surgery to remove a brain tumor.
All three of these books are well-written, exciting and funny, and you'd be missing out if you didn't pick one up.