Mr. December – Sean Parchesky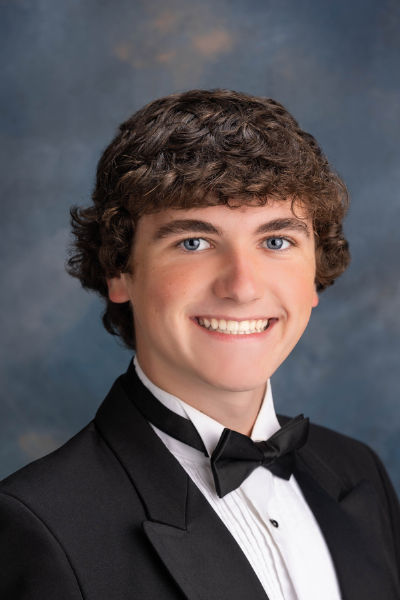 What is the charity you chose to represent?
The South Jersey chapter of Ainsley's Angels. They provide opportunities for disadvantaged people to be a part of athletic endurance events, like marathons. Whether it be people with physical disabilities, intellectual disabilities, terminal cancer, or something else that prohibits them from participating, this organization provides great opportunities for inclusion. My younger sister, Hannah, has Down's Syndrome and has been a part of many amazing experiences this organization offers. Helping both special needs people and people with cancer is very important to me, so I chose a charity that benefits both groups and provides inclusion for all in our local community!
Why do you best represent WTHS?
I'm friendly and try my best to brighten everyone's day. I try to be a role model for my underclassmen friends, and I always hope to leave a positive impact on my peers. I am also super involved in all the activities at WTHS! I'm a leader, dedicated, and spirited in all the activities I participate in.
What is your favorite pick-up line?
Are you from Tennessee? Because you're the only 10 I see.
If you could pick anyone beside yourself to win, who would it be?
Marcus Glenn. I spend a lot of time with him during our swim seasons in the summer and winter, and I am confident when I say I have never once seen him be negative. He would be extremely gracious if he won, and him constantly singing Taylor Swift automatically makes him so deserving. I would be so happy to see any of the other guys win though!
Favorite food:
French fries
Favorite music artist:
Taylor Swift, Kendrick Lamar, The Weeknd, SZA, Lorde
What TV show/movie character are you most like?
Disgust from Inside Out. Although I am kind, I can be high maintenance and very opinionated. Like me, she is very sincere and always has good intentions, but always tells things how they are.
What teacher or faculty member has made the biggest impact on your high school career?
Both Mrs. Dowdell and Mrs. Carpenter. Since meeting her last year, Mrs. Dowdell has always been very supportive of me and always embraces my craziness. Between constantly making the yearbook together, going to her office at any free point during the day to talk, and her involvement with the business department, I have grown very close to Mrs. Dowdell over the past two years. Mrs. Carpenter has also always been very supportive of me. I always feel comfortable going to her to discuss any topic, and we always end up laughing every time I'm in her office. She has always looked out for me, cheered me on, and helps me be my best possible self.
What is your go-to Wawa order?
Barbecue chicken and cheese quesadillas, strawberry banana smoothie, and a warmed cookie
What is the first thing you buy if you win the lottery?
Plane tickets and expensive hotel reservations to all the places I want to travel to.
What has been one of the most memorable aspects of your high school experience?
All the school dances, especially junior prom last year! I always love going to pictures beforehand and being on the dance floor with my friends. Junior prom last year was super fun because I spent time with my close friends, made new friends, and ended up being the very last person on the dance floor.
If you could live within the world of a TV show/movie, which would it be?
Minions: Rise of Gru, except I would be a minion. If not Minions, then Shrek. I think these are both self-explanatory??
What advice would you give to underclassmen about high school? About life?
It's exhausting being so self-conscious all the time, so stop worrying about what everyone else is thinking and make choices for yourself. Everyone is so self-conscious in high school and worried about "embarrassing" themselves that they end up missing out on so many fun moments. You will make the best memories once you're least worried about what others think!
What are your plans and goals for after high school?
I plan to attend college for accounting and finance and hopefully work in a career in accounting or consulting. I would love to travel the world in the future.
If you could only eat at one fast food restaurant for the rest of your life, which would it be?
Chick-Fil-A
Describe yourself in three words.
Sociable, resourceful, silly!!!!!
What has been the best part about being on Mr. WT?
Forming friendships and new memories with all of the guys. We connected as a group really quickly and have been having a lot of fun. I've created friendships with many of the guys I wasn't close with beforehand, and I'm glad we were all brought together.