Mr. November – Billy Hagerty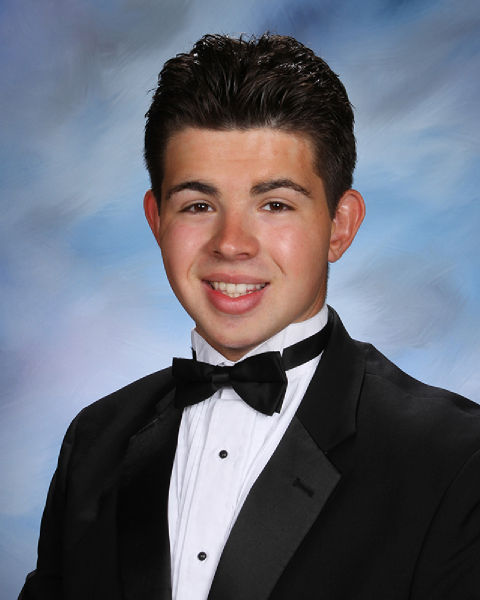 What is the charity you chose to represent?
The CHOP foundation. In January 2021, I spent two weeks at CHOP recovering from a ruptured appendix that came about after I had Covid. During my time at CHOP, I found out there is an area of the hospital that patients call home and will never leave. The money I raised will go towards research for these patients in hopes that one day they can go home with their families and live a normal life.
Why do you best represent WTHS?
I am a well-rounded honors student, athlete, and an active member in the community. I am involved in school clubs and events, such as being a member of the Interact executive board and the National Honor Society. I always try to have a positive outlook, be respectful, caring and very friendly to others. Lastly, I make an effort to put a smile on the face of people around me.
What is your favorite pick-up line?
Well, here I am! What are your other two wishes?
If you could pick anyone beside yourself to win, who would it be?
Ian Piotrowski. Ian is a great person and a good friend. During Mr. WT practices and events I got to know Ian better. He is always supporting TWP teams and is very energetic. Ian embodies school spirit and TWP pride.
Favorite food:
Cinnamon Toast Crunch
Favorite music artist:
Post Malone
What TV show/movie character are you most like?
Flynn Ryder from Tangled because we are both laid back, good-hearted, strong, kind, and loyal to others. I am also charming, funny, and handsome just like Flynn. We both are adventurous and were both hit on the head with a frying pan.
What teacher or faculty member has made the biggest impact on your high school career?
Frau Graham was my German teacher for three years and made the biggest impact on my high school career because she always offered positive feedback and pushed me to excel in her class. Through positive reinforcement and a kind heart she helped me gain confidence in myself and move outside my comfort zone.
What is your go-to Wawa order?
Turkey and cheese hoagie with Doritos and a blue raspberry icee or an iced tea.
What has been your most embarrassing moment at WTHS?
When I donated blood this year and almost passed out. At the time, I was surrounded by many of my classmates and had to lay down on the stage floor of the RBPAC.
What is the first thing you buy if you win the lottery?
Plane tickets to Hawaii.
What has been one of the most memorable aspects of your high school experience?
Being a part of Mr. WT because it's been something I always wanted to be a part of since I was in middle school. It will always be a memorable experience when I look back on my high school experience.
If you could change one thing about the world you live in, what would it be?
End poverty. Every life has value and living in poverty must make one devalue their life, and no one should ever feel so low. I think collectively, globally we need to do better, and come together to combat poverty.
If you could live within the world of a TV show/movie, which would it be?
Hawaii Five-0 because it is my dream place to live. Although it is a TV show, the characters, and their career path interest me, and it is a beautiful island.
What advice would you give to underclassmen about high school? About life?
Don't worry about being popular or having the most friends in school. Be involved and be friendly with everyone. Do what you love and what makes you happy.
What are your plans and goals for after high school?
I will be attending a four year college and working towards a criminal justice degree. I would like to pursue a career in the FBI or another US intelligence agency.
If you could only eat at one fast food restaurant for the rest of your life, which would it be?
Chick-Fil-A
Describe yourself in three words.
Outgoing, generous, and compassionate
What is something about you most people do not know?
I am Biliterate in German.
What has been the best part about being on Mr. WT?
Getting close with the 11 other guys on MR. WT, hanging out with them, and doing the Dodgeball tournament.