Mr. February – Greg Price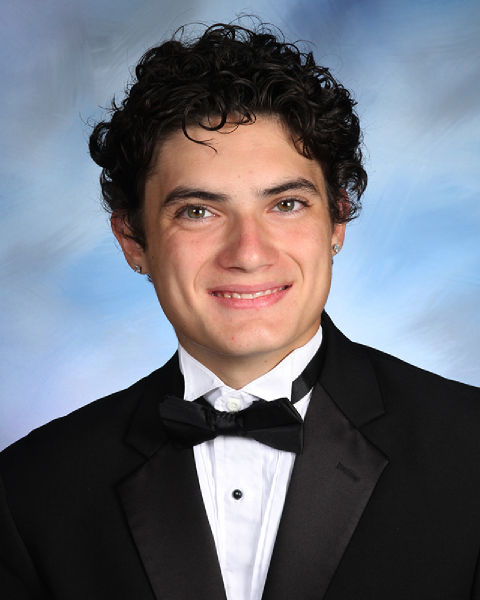 What is the charity you chose to represent? 
The Sandy Rollman Ovarian Cancer Foundation because in December I lost my Aunt Terry to Ovarian cancer.  My Aunt Terry fought a courageous six year battle against Ovarian cancer. What I learned through my Aunt Terry is that early detection of the disease is the key to survival, but sadly insurance companies will only pay for a woman to have an examination every 3 years. By that time, the cancer has spread through the body and treatment is very difficult and often not successful. I was also surprised, after attending Ovarian Cancer Walks, to see how ovarian cancer affects not just middle age or older women, but young adolescent girls. There isn't enough research and ovarian cancer isn't talked about enough. 
Why do you best represent WTHS? 
I have tried my best to be as involved in the school as I can.  I am part of four clubs: Drama Club, Art Club, Peer Outreach, Interact, and I am heavily involved with TV Production inside and outside of class.  I have made it a point to participate in every event; I am probably one of the most involved kids in the school.  I participate in some sort of school activity every day. It could be prom, Monzo, an art show, chorus, dance concerts, football and soccer games, talent shows, and even every spirit week. I am always there participating and supporting our school.  Because I am involved in so many activities, I have made many friendships throughout school. I try to be friends with everyone.  
What is your favorite pick-up line? 
My name's Greg, when you catch your breath you can tell me yours.  
If you could pick anyone beside yourself to win, who would it be and why? 
Marcus. He is one of the nicest kids you will ever meet in this school; there is not one bad bone in his body. Not only do I see Marcus at every event cheering everyone on, but he also always has the kindest words to say to everyone. Marcus even bought all 12 of our MR. WT t-shirts to support all of us. Marcus is a great person with a great heart.  
Favorite food: 
I like pretty much all foods, but my favorite food would have to be my mom's Sunday gravy and ravioli. 
Favorite music artist: 
Steve Lacy 
What TV show/movie character are you most like? 
I am most like SpongeBob because he is a fun-loving and generally optimistic character. Also, SpongeBob always has a smile on his face and is very loyal to his friends. Like SpongeBob, I love a good laugh, but I also make a lot of stupid mistakes and I'm kind of all over the place. I also share his great sense of style.  
What teacher or faculty member has made the biggest impact on your high school career? 
Mrs. Dirato. Although she has moved on from WTHS, I was her student for three years and she taught me so much about the TV industry and about work ethics. Mrs. Dirato was able to see what I could do with TV production, and even though I was very lazy at the start, she pushed me to work hard and to produce my best work. Looking back, I value that lesson highly because TV Production is something I love and want to continue as a career in the future.  
What is your go-to Wawa order? 
Recently my go-to Wawa order has been five piece chicken strips with honey mustard and maybe a wawa ice coffee.  
What is the first thing you buy if you win the lottery? 
A trip to a tropical island for me and my friends. I would love to take an amazing trip with all my high school friends before we all go off to college and drift apart. After that, I would give the rest to my parents because they have done so much for me. I would hope to give them enough money so that they could retire and have a nice shore house and take fantastic vacations around the world.  
What has been one of the most memorable aspects of your high school experience? 
Junior year homecoming. I think it was memorable to me because it was the first event after coming back from remote learning and I just remember how great it felt to hang out with all my friends again.  That was definitely a core memory for me.  
If you could change one thing about the world you live in, what would it be? 
The greatest problem I think that is facing the world is children's poor access to health care, education and safety. I think health care, education, and safety are basic human rights that everyone should have equal access to. Unfortunately, there is no equity in these basic human necessities. The value of your education should not be determined by where you live. I'm very privileged that I was able to grow up in a school district that provides a great education with laptops and so many resources, but many kids don't. I don't think it's fair other kids don't get nearly the opportunity and resources I do just because they were born or brought up in a different area.  
If you could live within the world of a TV show/movie, which would it be? 
Avatar. I think it would be so fun to fly on one of banshees and live in that world.   
What advice would you give to underclassmen about high school? About life? 
Stay true to yourself and don't worry about what other people think. Even though you may think you need to act a certain way to make friends, if you are yourself, true friends will come your way.  
What are your plans and goals for after high school? 
I will be attending Montclair State University and majoring in TV Production. I hope to one day work in the TV production field.  
If you could only eat at one fast food restaurant for the rest of your life, which would it be?I Chick-Fil-A.  Everything at Chick-Fil-A is always good quality and I just love the food there.  
Describe yourself in three words. 
Friendly, empathetic, and creative. 
What is something about you most people do not know? 
I was a competitive figure skater for nine years. I started skating when I was six and stopped when I was 15. I skated free style and pairs with my sister.  We trained at the University of Delaware and went as far as competing at the regional level. Skating was a huge part of my life growing up.  
What has been the best part about being on Mr. WT? 
All the fun I have had with the other WT nominees. I've enjoyed the practices and all the events we attended together. This was an amazing experience and one that I won't ever forget. I'm so thankful that I got to be part of it all.