Mr. June – Elijah Bradley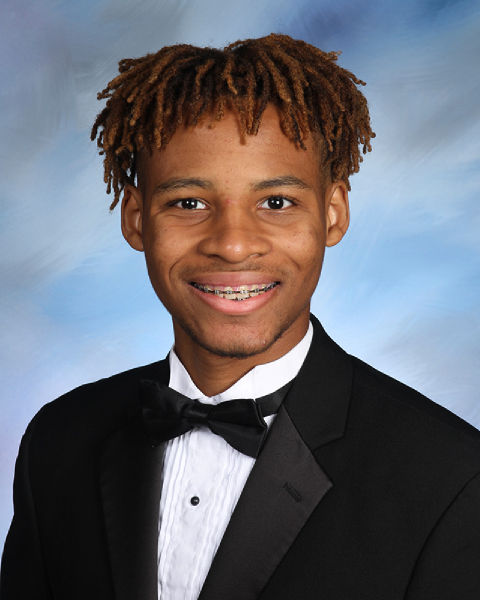 What is the charity you chose to represent?
"The Trevor Project". Their company is focused on providing a 24/7 support service to kids who identify with the LGBTQ community. I have many friends who identify with this community, and they tell me their struggles quite often. Unfortunately, I've lost a friend to suicide who was a part of the LGBTQ community, and I believe that the Trevor Project is a great effort to combat suicide and help kids struggling with the anxiety of finding their identity.
Why do you best represent WTHS?
I feel like I represent the kids in the school who may not feel like they fit in anywhere. I came into the school knowing absolutely no one in my freshmen year with an introverted personality. I even lost out on my Sophomore year due to Covid. The fact that I was able to be crowned as a "MR WT" candidate is a huge accomplishment to me since I only had two good years of interaction here. I do my best to help people learn from the mistakes I made to prevent them from falling into the same traps I had. I also do my best to make everyone feel welcomed, and I hope to inspire underclassmen to be themselves and enjoy their high school experience.
What is your favorite pick-up line?
If I were Mario, you would be my only star.
Favorite food:
Cheeseburger because that's what I order at every restaurant I go to.
Favorite music artist:
XXXTENTACION. The connection I have with his music is something that can't be found anywhere else to me, and his musical versatility was unmatched. I miss his energy.
What TV show/movie character are you most like?
Zim from Invader Zim, because he's an over the top, dramatic, but funny guy. He also wants to take over the world. We seem to share a lot in common.
What teacher or faculty member has made the biggest impact on your high school career?
I have a few teachers that hold special places in my heart, but I'd have to go with Mr. Dzierzgowski. When I was a freshman and new to the district, he was the first teacher that taught me to not be afraid to be myself. I honestly talked to him more than my actual friends in Freshmen year. He was the best support I had for a long time. I probably wouldn't be as accepting of myself if it wasn't for Sr. D always being so supportive of me.
What is your go-to Wawa order?
BBQ Chicken Quesadilla, with two twisted glazed donuts, and Half & Half Tea. I don't suggest going out and getting this for yourself, the tastes are kind of mixed weird. But I'm a weird person so it's perfect for me. Don't question it.
What has been your most embarrassing moment at WTHS?
Growing up, I didn't like cutting food with utensils, so I always used my hands. So in Freshmen year when I first got my braces, I tried to cut an apple up so I could eat it, but I struggled the entire time. I was using a plastic fork and knife like that was going to do anything. There's a video of this somewhere. Do not ask me for it.
What is the first thing you buy if you win the lottery?
Probably the Wolf vinyl from Tyler, The Creator. That vinyl sells for like $300 dollars on re-sale, and ya know… something within me doesn't feel right dropping that much money for a vinyl record, so at least if I won the lottery, I wouldn't have to worry about denting my wallet.
What has been one of the most memorable aspects of your high school experience?
Being exposed to the many personalities in the school. Meeting people who match my energy well, and those who I probably would have never talked to if it wasn't for being paired with certain projects. I love all my friends, thank you for making these years fun.
If you could change one thing about the world you live in, what would it be?
I would change the education system to push a more "personalized learning" approach over a "one size fits all". Personalized learning customizes learning based on the individual's strengths, needs, and skills. Whilst "one size fits all" is currently applied to most schools. I believe we should give high school kids more classes depending on their career paths rather than classes that won't apply to them.
If you could live within the world of a TV show/movie, which would it be?
I would live in the world of Spiderman: Into the Spiderverse. That movie introduces the entire multiverse of spidermen, that could open the possibility of me having my own version of spiderman. I'm technically already in the Real Life MCU (Google Elijah Bradley MCU), so It's about time to take over the Cartoon MCU.
What advice would you give to underclassmen about high school? About life?
The best advice is usually always the corniest. Literally Be Yourself. You have no idea how many people, even still in their adult life, fake their personalities and are very disconnected from reality. Take life seriously early on and understand that you are very important. You guys are the next generation after us, and I wanna see you guys do better than us, so whatever passion y'all got, just do it. And anyone that doubts you, learn how to turn that negative energy into a positive.
What are your plans and goals for after high school?
I plan on furthering my career in content creation and music. I'd also like to create my own clothing brand one day. I'm open to everything.
If you could only eat at one fast food restaurant for the rest of your life, which would it be?
Wendy's. No Doubt. It's better than your favorite fast-food restaurant.
Describe yourself in three words.
Creative, Sympathetic, Humorous
What is something about you most people do not know?
Karl Jacobs from the MrBeast YouTube channel has a screenshot of my Twitter buried deep in his camera roll. We met up at Vidcon.
What has been the best part about being on Mr. WT?
My favorite part is the actual dance rehearsals. I love to dance and I love to daydream, so when I'm putting my all into learning the dances, I tend to envision myself on-stage with all the cool lighting and the full choreography coming together. Kaia and Gianna have been great choreographers, shoutout to them.