Fall play brings magical comedy to WTHS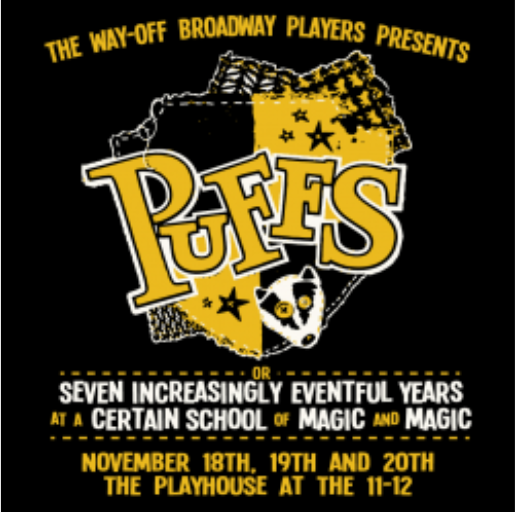 The WTHS Way-Off Broadway players are hosting their annual fall play.  The play is being held in the 11/12 playhouse on November 18th, 19th, and 20th at 7:30 pm; tickets can be purchased for $12 at the door or online.
The players this year are presenting "Puffs", a comedic retelling of J.K Rowling's Harry Potter series. "Puffs"  centers around seven years spent in an unnamed school of magic. It's told through the perspective of the Hufflepuffs. The main characters' (Wayne, Oliver, and Megan) story is told within the seven years they spend at this school of magic. The play dives into the characters' adventures and ultimately reveals the magic within each of them.
"I try to do something new and different every year, so this is a different type of experience. I wanted to let as many kids participate as possible, especially after covid," said Mrs. Abigail Molotsky, WTHS Drama director.
The play this year is very action-packed and consists of lots of activity which includes large casting, fantasy elements, props, effects and more.
"There are so many jokes in the show and it's so funny… especially during the first night. You get to finally get the audience first reaction and finding what they find funny is always something I enjoy," said Ms. Jessica Kelleher, WTHS Drama assistant director.
The performers are just as eager as the directors to put on the show.
"I'm excited to be on stage with all of my friends this year," said senior PJ Micciche.
"It'll be nice to hopefully have a full audience," said junior Emily Schwartz.
Molotsky encourages everyone, even first-time theater-goers, to attend this year's performance.
"If you have never been to a play before, this is the one to get you introduced to theater. There are 46 people in the cast, 20 kids on stage crew, like 10 kids' production staff. There are so many kids involved, you all know someone who is in the play, so come and support them."
Given the circumstances, socially distanced seating will be required.
Tickets can be purchased for $12 at the door or online by clicking the following link https://wthsnj.booktix.com/. For updates on this event and more follow @WTHSWOBP on Twitter.