2020 Fall Play Recap: "Most Likely To: The Senior Superlative Monologues"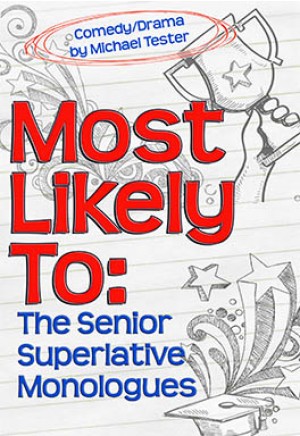 Available for streaming on Thursday, November 19 and Friday, November 20, the WTHS Way Off Broadway Players presented "Most Likely To: The Senior Superlative Monologues," for those who purchased E-tickets.
The performance focused on a group of high school students accepting awards for various senior superlatives, while diving into a deeper theme of what these types of awards can mean to those who win them.
The performances were truthful and eloquent, and it was an all-around a fantastic experience of art to watch.
However, preparation for a show like this under current circumstances was not without its challenges. Due to COVID-19 restrictions, the cast had to work diligently to practice, memorize and perform their show in a recorded virtual format.
Senior Emily Cozzone was able to provide a first-hand account into what these adapted rehearsals looked like.
"We started off the rehearsal process on WebEx," she said, "rehearsals were a little strange at first."
Cozzone went on to describe how her prior experiences in prepping for high school plays compared to this one.
"Throughout my high school experience, play rehearsals have always been in person, so rehearsing online was something new and very different," Cozzone stated, "nonetheless, the online rehearsals worked out very well."
According to Cozzone, each performer was able to have one-on-one rehearsals with each of the three directors. Soon after, the cast was able to rehearse and run through the whole show outside while staying six feet apart.
The restrictions to the show pushed the actors and actresses to adapt to new styles of performing.
Senior Kylie Bittner said, "It was SO weird. Performing a comedic show with no one in the audience to laugh at you was just strange. As a performer, I typically depend on the audience's reactions to help my performance, so it just challenged me a lot."
One might think that actors and actresses who are used to performing as a part of a grand group number would dislike performing strictly monologues, but that wasn't necessarily the case.
"It was actually quite interesting to work on our monologues by ourselves," senior Sabrina Sims stated.
Sims, like many others, did have some difficulties with the adjustment.
"When you work by yourself, you can develop a clear vision of what you (and the directors) want from the scene and how you can achieve it," Sims adds, "it felt like your own
moment to show what you've got, and practicing your monologue allowed you to grow as much as you can without overpowering anyone else."
Despite the change to virtual meetings, outdoor rehearsals, and a streamed recording, the cast was thankful to be able to create and perform their show.
"It felt amazing to be able to do a show in the middle of all of this craziness. I missed performing so much! It was so nice to get a tiny bit of normalcy while being safe," said Bittner.
The full cast and crew included fantastic work from Sabrina Sims, Julia Bing, Patricia Howell, John Ecker, Abby Dzierzgowski, Olivia Day, Talia Morrison, Cam Lyons, PJ Miccichi, Brooke Hogate, Grant Barbarino, Kylie Bittner, Mia Pagliarini, Ryan Crowley, Angelina Chila, Emily Cozzone, Xander Jackson, Dylan Long, JC Beasley, Colby Gibson, Kaylee Luckiewicz, Maeve Fitzgerald, Alyssa Marrero and Billy Niemeyer.