Way Off Broadway Players hosting virtual play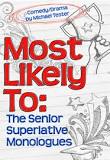 The Way-Off Broadway Players are performing their first ever virtual play on November 19th and 20th. They will be performing, Most Likely To: The Senior Superlative Monologues by Michael Tester. The play is directed by Mrs. Molotsky, Mrs. Kelleher, and Señor Dzierzgowski.
"It's like a senior superlative, but they make fun of themselves. It's an ironic look at the senior awards," says Mrs. Molotsky.
In an effort to follow the COVID-19 guidelines, many commonplace practices have had to change to fit these restrictions. The play is no exception. Rehearsal was handled in two different ways. On nicer days, the cast and directors were able to rehearse outside while maintaining social distancing. The other days rehearsals were held solely online. The play is performed in monologue style, so the cast could work with the directors one-on-one to develop character and timings.
"We videotaped it, but because it's a monologue show, we could adhere to strict social distancing. We had a few kids on at a time," said Molotsky.
The play will be livestreamed with virtual tickets available for purchase to view. Those interested in seeing the show can purchase tickets at https://wthsnj.booktix.com/. Drama club updates and information can be found on Instagram @twpdrama and Twitter @TWPDrama.