"First Watch" café: West Coast brunch in Washington Township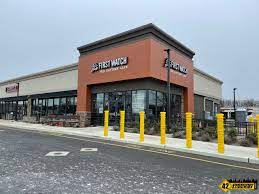 From the West coast to the East coast, Washington Township's new "First Watch" café, located just behind the high school, has become the all new breakfast/brunch hot spot for the friends and family of Twp.
"First Watch: The Daytime Café" has been serving millions since 1983, originating in Pacific Grove, California. Friends and business partners John Sullivan and Ken Pendery began their restaurant/café in Central California back in the 80s. They have grown to over 300 locations with more than 8,000 employees, spread throughout the United States.  Ironically, there are no First Watch Café's left in California today.
Known for their delicious breakfast and brunch, the café-style restaurant has created an atmosphere that provides patrons with a sense of peace and serenity. The café is popular for its fresh ingredients, using fresh fruits and vegetables that are cut in-house. This draws in health-crazed customers from all over town. The family-friendly service is also a bit hit with the community.
The café's promise to customers is to welcome them "with a pot — not just a cup — of (their) Project Sunrise coffee, along with complimentary newspapers and WiFi Internet access" when they arrive. Their "You First" philosophy is centered around making the customer feel at home to keep them satisfied and coming back for more.
First Watch Café has also been devoted to keeping the community involved and giving back to the ones that keep them running: the loyal customers. First Watch has multiple scholarships and fundraisers serving minorities. Black employees were recruited across the country to serve on the First Watch Café's R.I.S.E (Race Inclusion and Support Exchange) Advisory Council, and at the end of a one-year term of serving, a thousand-dollar donation is given in that employee's name to a charity of their choice that supports the Black community. Not only does First Watch offer the R.I.S.E Council, they also donate to the UNCF (United Negro College Fund) and HBCU (Historically Black Colleges and Universities) Scholarships; they take part in Unconscious Bias training, Leadership Training Web Series, the R.I.S.E Mentorship Program and the Emerging Leaders Scholarship, along with the Diverse Applicant Outreach.
It is clear that First Watch is invested in the future of its employees and the community it serves. The First Watch Café's countless menu items, community service, and friendly employees shows its dedication to Washington Township in serving some of the best brunch in town.
Menu: https://www.firstwatch.com/menu/
Address: 415 Egg Harbor Rd, Sewell, NJ 08080