First season of Masked Dancer concludes after riveting season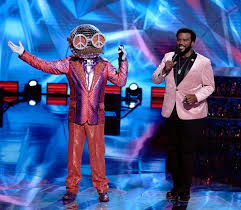 After season 4 of The Masked Singer came to a close, Fox TV premiered a new series, The Masked Dancer. Quite similar to The Masked Singer, The Masked Dancer includes multiple contestants in quirky costumes who compete head-to-head by showing off their dancing skills. The show follows the same rules of The Masked Singer, including voting off and unmasking the person with the least number of votes. The premiere started strong, pulling in 4.8 million total viewers.
The Masked Dancer, although very similar to The Masked Singer, has quite a few differences. This show only has ten competitors, compared to The Masked Singer's 16. The Masked Singer also introduced "groups" to split up this large number of singers, while The Masked Dancer did not. The Masked Singer tends to create costumes for its contestants that are based around animals, but The Masked Dancer broke through this ideal and introduced costumes based on food, plants, and even objects. Not only was the show itself quite unique, but it also had various new judges and a new host. Craig Robinson hosted the show while Paula Abdul, Brian Austin Green, Ashely Tisdale, and Ken Jeong served as panelists.
Many new celebrities were unmasked this season. There were singers, actors, dancers, boxers, gymnasts, and even activists. The Disco Ball was the first contender voted off, unmasked to be Ice-T, a famous rapper and actor, who stars on Law and Order: SVU. Episode 2 unmasked the infamous science communicator and climate change activist, Bill Nye, who left members of the audience and judges in shock. There were three singers on The Masked Dancer: Brian McKnight, Jordin Sparks, and Mackenzie Zeigler (who came in third place overall). The runner-up of this season was Sloth, who was Maksim Chmerkovskiy. He is known for his performances on Dancing with the Stars, a show that he worked on for 17 seasons.
The Masked Dancer's finale ended on February 17th, revealing the winner of this show's first ever season: Cotton Candy. She was revealed to be the Olympic gymnast champion, Gabby Douglas. Douglas is the first African American to become an Olympic all-around champion. She has won gold in both team competitions and individual all-around at the same Olympic games. Douglas has also won gold in the 2011 and 2015 Olympics. The Masked Dancer was a riveting and fun show to enjoy.