Snow Days while on Remote Learning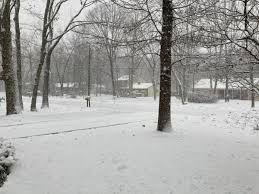 Snow days in a time of COVID-19, at least in Washington Township, are non-existent. Snow days (in practice) are called whenever snow inhibits people from getting to school. In the age of remote learning, there's no need to cancel school for snow because staff and students are already working from home.
But there's a huge part to snow days for students and their families. For them, it's not about just "getting to school," it's about the memories that are made when they occur. Seeing your school district name scroll across the bottom of the T.V. screen and being able to get back into bed and catch up on some much-needed sleep is one of the greatest feelings for students across America.
The snowstorm on December 16th dumped snow over much of our region, with Washington Township getting a little over two inches, according to the National Weather Service. But yet, the school day was unaffected; no early release, no snow day, nothing. Complete business as usual. Additionally, the ice caused by the overnight rain could have canceled school on December 17th, though that isn't as certain.
The real point of a snow day isn't to bring happiness to students; it's to keep students and staff safe by keeping them off of the icy, snow covered roads. But snow days have evolved into something greater than that. They have become a memorable part of the winter season.
The last time I saw a "good amount" of snow was in 2010, when I lived in North Carolina. I don't remember many other specifics from that time, but I remember vividly the snow day that I had. Running outside of my house, jumping at the opportunity to experience what I had seen in holiday movies my entire life.
Many of the younger students in our district won't remember much else from this time besides the pain that this pandemic has caused, but wouldn't throwing in a snow day (even if it doesn't have a general purpose) give those children something positive to remember from this year?
COVID-19 has already taken away so much at the high school and middle school level as well: sports, in-person school, clubs, fieldtrips, dances, parties, and so much more. Why should it take away another iconic part of the school experience? We can all remember having a snowball fight with our siblings or building a snowman with the neighbors. We can all remember our parents telling us that we have a snow day, that there's no need to get out of bed just quite yet. We can all remember looking outside expecting to see green grass and maybe some frost on the roof tops, but instead seeing snow covering our neighborhoods, a perfect winter wonderland. And in the age of COVID-19, in a year that has brought with it so much pain, why should we take away one small thing, a snow day, that brings so much joy to students everywhere?
At the end of the day, there's little practical point to having a snow day when you're in remote learning. But don't snow days provide so much more than that? They provide positive, joyous memories to students and their families – and the value of that can't be understated.