Review of Taylor Swift's Folklore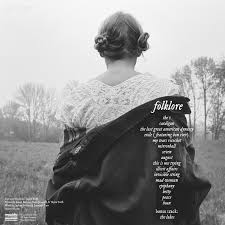 During quarantine, Taylor Swift wrote and recorded her most recent album, Folklore. She released it less than a year after her previous album, Lover.
In one Instagram post, Swift states, "In isolation my imagination has run wild and this album is the result." Folklore is filled with emotion, love, and wonder that leaves fans to decipher what the lyrics mean. This newest album reminds some people of her older albums, as every song Swift includes profound and meaningful lyrics. In her song titled, "The 1", she is passionate for an unnamed person.
Swift reveals true stories, including one about the wealthy family that lived in her house before she bought it. "Mad Woman" perhaps refers to the time when Scooter Braun sold her albums for $300 million. In "Exile", Swift sings with Bon Iver and incorporates piano with powerful, back-and-forth lyrics. One of the last and most popular songs of the album, "Betty", references high school drama and parties. In the very end of her song "Seven", there is forty-five seconds of calming instrumental music. "Invisible String" also makes a reference to one of Swift's earlier songs "Bad Blood" while a string is plucked in the background.
Swift poured her deepest thoughts and emotions into every song, making it one of her best albums. After watching her documentary on Disney +, fans are anxious to hear if Swift will begin touring after the pandemic comes to an end.
Favorite Lyrics from each song:
"The 1": "And if you never bleed, you're never gonna grow."
"Cardigan": "Politics, when you are young, they assume you know nothing."
"Last Great American Dynasty": "She had a marvelous time ruining everything."
"Exile": "I think I've seen this film before."
"My Tears Ricochet": "And I still talk to you when I'm screaming at the sky."
"Mirrorball": "I know they said the end is near, but I'm still on my tallest tiptoes."
"Seven": "I still got love for you."
"August": "Back when we were still changing for the better."
"This is Me Trying": "So I got wasted like all my potential."
"Illicit Affairs": "For you I would ruin myself."
"Invisible String": "Hell was the journey, but it brought me heaven."
"Mad Woman": "Every time you call me crazy."
"Epiphany": "And some things you just can't speak about."
"Betty": "I don't know anything, but I know I miss you."
"Peace": "The rain is always going to come if you're standing with me."
"Hoax": "Your faithless love's the only hoax I believe in."