Washington Township Youth Stand and Organize in Support of Black Lives
During the first weekend of June, Washington Township community members gathered together to protest the display of police brutality on George Floyd. These protesters were organized to stand against the violent and systematic racism aimed at African Americans in the United States.
On Saturday, June 6th, the collaborative idea of a peaceful protest formed within a group of rising seniors from the Gloucester County Institute of Technology (GCIT) and Pitman High School: Laila Muhammad, Amber Houston, Emily Faustino, Devon Purnell, Skyler Pratt, Grace Lombardo, Krista Murray, Kristen Flately, Danielle Moten, Jeffrey Lee, Isabella Myers, and Lauren Muthard. As a resident of Washington Township, Houston said that one of the primary reasons the protest was staged within the area was because of her personal experience of witnessing and experiencing racist situations.
The group of students and the police worked to pull off a peaceful demonstration at the Washington Township High School parking lot,  in remembrance of George Floyd and other black lives that have been taken as a result of police brutality.
At noon, the WTHS parking lot held close to 1,000 people, exceeding Muhammad's personal expectations of 50 people, including her family, friends, and friends' families.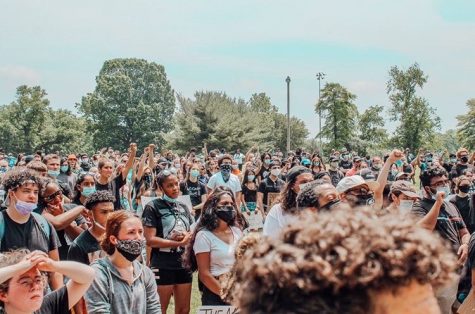 "The march was truly inspiring," WTHS student Angelica Male reflected.
A high point for Male was the moment of silence and kneeling for Floyd, which was held for 8 minutes and 46 seconds, symbolizing the amount of time the officer kneeled on Floyd's neck. Male feels that human rights are worth fighting for and said that it is time to make permanent changes to the system that has been systematically racist.
"I felt just as empowered and emotional at the start of the march in comparison to the end of the march," Male mentions, "the march was a powerful display of activism."
Similar to Male's passion to join the fight for change, WTHS student Connor Petersen felt he needed to do more than post something on social media and urges others to keep going until a change is done.
"Seeing the injustice and oppression against black people prompted me to join the march," Petersen says, "now is not the time to be silent."
For WTHS student Briana Sudler, the march hit close to home.
"It showed me that I am not alone."
Sudler described how she has encountered her fair share of discrimination issues as an African American and had always felt alone during them. Even more so, Sudler was prompted to join the march because she felt tired of the silence.
"Posting and speaking behind my phone was only accomplishing so much. I wanted to make it known that I will not stay silent," Sudler states.
Like Sudler, this march resonated within Destini Allen, a WTHS student and the President of WTHS's chapter of the NAACP.
"I wanted to stand up and fight for justice so my brother or my dad or anyone else wouldn't have to become a hashtag due to racism," Allen stated, pointing out the various hashtags that follow a tragic death from police brutality such as "#JusticeForGeorgeFloyd," "#JusticeForBreonnaTaylor," and "#JusticeForAhmaudArbery."
While describing the march as "united, emotional, and heard," Allen also encourages involvement by supporters for change.
The march started in the WTHS parking lot and ended at Washington Lake Park's James A. Yates Amphitheater where the protestors listened to brief speeches. The march demonstrated the organizers' intent to unite the community, battle injustices, and serve the people who have struggled due to their skin color.
"Change is coming," Muhammad declared, "people all across the world are fighting this fight with us…and I hope [that] through all of these voices…justice will be served."
Following the protest organized by the rising seniors from GCIT and Pitman High School, another march was organized by a group of WTHS alumnus: Dan McKenna, Sierra Helverson, Brandon Decker, and Brandon Edwards.
Like Muhammad, McKenna was anticipating 50 people to arrive and was unsure of the number of people that would willingly express themselves as anti-racists in public.
"As long as someone is speaking out against injustice, it's definitely more powerful than deafening silence," McKenna said.
Through their planning of amplifying black voices and promoting their message of honoring Floyd and other black lives that have been lost due to police brutality, the alumnus worked diligently with the county's NAACP office and the local police department to ensure public safety, one of their main concerns.
In addition to public safety, McKenna found that ensuring there was space for the amplification of black voices was a difficult task in itself.
"I didn't want this to be about me or my co-collaborators," McKenna emphasized, "I wanted it to be about the movement…this march isn't about any singular person…it is about making sure [that] black folks receive the care and attention they deserve. It's about holding oppressive systems and people accountable for the lives they destroy [which are] predominantly black lives."
Before the march began, a man came out with an American flag and a sign that said, "Blue Lives Matter". The protestors in return raised their signs at him.
"It gave me the chills watching it happen," WTHS student Nikki Jimenez recalls, "we could all have chosen to use hate as retaliation…but we chose to use love in order to make a statement."
The march was planned for a route starting at the WTHS parking lot, circling around the high school, followed by a planned candlelight vigil. However, the march took a different course, straying from the original plan. Rather than circling the high school, the march drifted from its initial plan and gained momentum as the protesters marched through the streets of Washington Township. The marchers continued their path and reached a high peak moment for WTHS student, Kylie Bittner.
"We stopped at the light next to Pat's Select and held a moment of silence and laid on the street," Bittner illustrating the remembrance of Floyd through the 8 minutes and 46 seconds that she and the other protesters had laid on the street for.
The march was "encouraging, uniting, and significant," recent WTHS graduate Eric Lee stated, "as an African American, this movement [Black Lives Matter] affects my life greatly…everyone has to do everything they can to help this fight, whether it's signing petitions, donating money, voting, or even just having conversations to educate oneself and others."
Like Lee, African American former student and current teacher at WTHS, Eisa Jackson joined to share her voice and to open the eyes of people to things that are occurring in the world which not only affect the students but also the teachers.
Jackson and other protestors like Kaila Parkin, a WTHS student, felt nervous and slight apprehension at the start of the march. However, by the end of the march, Jackson and Parkin's nerves were settled from the turnout and support. Both were amazed to see the number of people who attended, many of whom were young, old, and racially diverse.
"It really was exciting to see people really interested in this cause," Parkin stated, "this [Black Lives Movement] isn't a fight only for black people and nobody at this march looked the same so it was great to see everyone fighting for this cause."
Like Parkin and Jackson, Jimenez was astoundingly moved by the number of people, their passion, their expressed pain, and their screams for equality and an end to racism.
For Jackson, a pivotal part of the march was the students speaking from the heart for what they believed in. She was quite pleased to see some of her very own students raising their voices for a movement that they believe in.
"A young yet powerful black girl was leading many of our chants," WTHS student Lauren Dye added, "I felt that that spoke volumes about how age does not define your power to make a change."
By the end of the march, Jimenez was able to share a speech prepared by Allen on her behalf.
"I want to send a message out to our young African Americans," Jimenez read, "I want you to know that you matter. You matter just as anyone else here."
Through her speech, Allen promised to fight for the black youth so that they would be able to "play cops and robbers without having to lose [their] life for it," to be able to "walk with skittles in [their] hand," to be able to "sleep peacefully in your own house," and to be able to jog or be pulled over without fear. Allen encouraged the listeners to not let anyone be defined by the color of their skin and asked that the listeners be defined from what is in their hearts and minds.
Sharing Allen's hopes and understanding, Jimenez also revealed her own hopes for the future, a future where protests are not necessary for change and that racism is eliminated.
"I hope to no longer question bringing a child into this world because I never want my kids to see the hatred I have seen," Jimenez said.
"[These marches were] a confirmation of what I already believed – there are so many people in TWP who are willing to stand up and do the right thing," Jackson reflected with pride, "the march let me know that there are people out there willing to stand up against injustice…the youth is our future and our hope."
Although there doesn't seem to be any future plans for the GCIT and Pitman High School rising seniors, the WTHS alumnus said that any future events will be shared through their Twitter and Instagram (@twpblmmarch).