COVID-19 vaccine in our community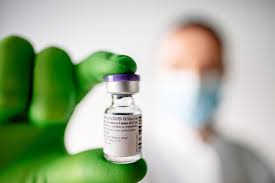 The Food and Drug Administration (FDA) has authorized the Moderna and the Pfizer vaccines for use in the United States.
The Pfizer vaccine, administered over two doses three weeks apart, has been shown to be 95% effective in preventing COVID-19 according to the FDA. As of January 8, 2021, 6.7 million vaccines had been given out in the United States, mostly to front-line medical workers and nursing home residents. After more than 370,000 COVID-19 related deaths in the United States, every state has been granted vaccines in proportion to their population.
Lindsay Krott is a student nurse at the University of Pennsylvania hospital who was recently accepted to the Adult-Gerontology Acute Care Nurse Practitioner program at Penn to become a nurse practitioner.
Krott recently got her first dose of the Pfizer vaccine and experienced only a "low-grade fever" and sore arm. However, she explained that "this is common for young people because we have really healthy immune systems," and the "fever is actually a sign that the vaccine is working."
While the Pfizer vaccine targets those 16 years and older, the Moderna vaccine is only for those 18 and older (statnews.com).
Krott's opinion on the vaccine is that "feeling a little under the weather for a day is much better than getting COVID or spreading COVID to your parents and grandparents."
According to The New York Times, however, nearly 25% of Americans say they would not take the vaccine, despite on average 2,700 deaths being reported each day (up 16% according to cnbc.com).
Michael Tal, an immunologist from Stanford, states that people that get vaccinated still have to wear masks because they could be contagious. Vaccines will not immediately end the pandemic and masks along with social distancing will still be necessary.
COVID-19 has affected countless lives around the world. Krott has shared that some patients on the oncology floor feared coming to the hospital and contracting the virus.
Lastly, Krott urges everyone to "do their part and get the vaccine!"