2021 March Madness looks new in COVID-impacted environment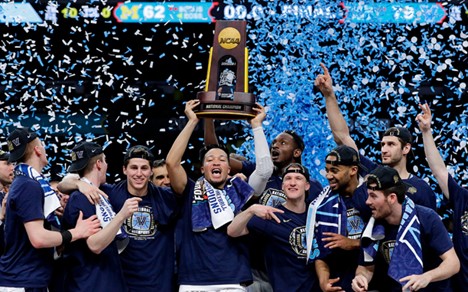 It's March, which means lots of things: St. Patrick's Day is on the 17th, Spring starts on the 20th, and Philadelphians can get excited for the 24th National Cheesesteak Day. And for college basketball fans, the month of March is nothing short of heaven. In March, fans get a whole month of buzzer beating, underdog upsets, and basketball watching. Or, as Dicky V would say, it's, "MARCH MADNESS BABY". However, before fans fill out their bracket, there are a few things they should know about this year's tournament.
COVID Changes
The entire college basketball world was devastated last year when the NCAA announced they would be cancelling the tournament. However, the NCAA has implemented new safety guidelines this year to allow for the tournament to happen. First, the entire tournament is taking place in Indianapolis, which differs from years past when games were played across the country, before teams converged in one city for the Final Four. All Tier 1 personnel, which includes student-athletes, coaches, athletic trainers, physical therapists, medical staff, equipment staff, and officials, will need proof of seven consecutive negative COVID-19 tests before being allowed to travel with a team to Indianapolis. All Tier 1 individuals will be tested daily upon arrival and will have to practice social distancing. All teams will be housed in hotels in Marion County, which differs from previous years when individual teams could choose their hotel. All Tier 1 members, including players, will be required to wear a tracking device throughout the tournament to help monitor contact. While all these changes may make March Madness look different this year, the game is still the same.
Bracket Help
With there being a shortened season, and some teams having to miss games due to COVID, there has been a smaller sample size for both the selection committee and the bracket pickers to work with. There are, however, some obvious trends that have emerged this year.
First off is Gonzaga. Despite a scare in their conference championship, Gonzaga has been strong all year, undefeated on the season and a sure fire one seed. Behind the stellar play of sophomore Drew Timme, senior Corey Kispert, and projected top five pick freshman Jalen Suggs, they also have the second most Quad 1 wins. It's honestly this simple: if you don't have the Zags making a deep run in your bracket, your bracket is wrong.
Next up is Duke and North Carolina. Joe Lunardi's recent Bracketology didn't even have the Blue Devils in the tournament, and many analysts are saying the only way they get in is if they win the ACC tournament, so chances are they won't have the chance to trip you up. However, the Tar Heels are projected as a nine seed right now, and almost definitely have a March Madness berth. This team is not like the great North Carolina teams of the past. They have struggled mightily all year and are not a great pick for your bracket. This also applies to Duke if they somehow manage to get in.
As painful as this is to type, another mistake many bracket pickers may make is having Villanova making a deep run. It's just not in the cards this year. Senior guard Colin Gillespie is sidelined for the rest of the year with a torn MCL, and sophomore guard Justin Moore is listed as doubtful for the Big East tournament and March Madness with what is being described as a "significant high ankle sprain". The strength of many Wildcat teams in the past has been their backcourt, and with the loss of their two starting guards, unfortunately this team just does not have it in them to make a deep push.
While it is usually a powerhouse conference, the ACC is nothing short of weak this year. While North Carolina and Duke have already been discussed, the same downward trend has applied to the rest of the conference. Picking an ACC team to go far just is not the best move.
However, while some powerhouses are having down years, some teams that are typically not great basketball schools are beginning to play, quite frankly, better than anyone could have predicted. Teams like Iowa, Illinois, Alabama, Houston, and West Virginia are not known as traditional powerhouses, but are poised to make a run, with solid coaching and great players on all the teams.
The final tips are general and apply to all brackets. Don't over pick the upsets. However, don't be afraid to pick an upset. Every year there are a few ten seeds that beat seven seeds, at least one twelve seed upsets a five seed, and every now and then some random team makes a "Cinderella" run deep into the tournament, busting a couple of brackets. Don't always pick the higher ranked team. Don't pick emotionally or based off of some connection you have to a team.