Wentz mistake ends Eagles comeback in a 37-19 loss to the Rams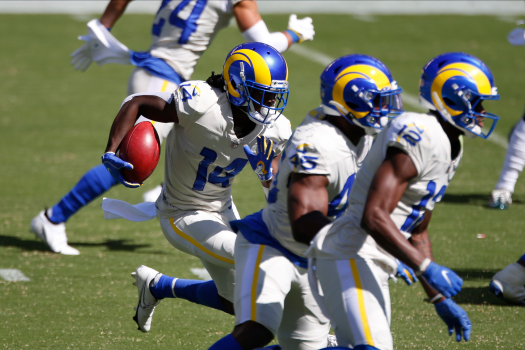 Philadelphia went into a Week 2 showdown with the Los Angeles Rams looking to reassure the front office and fans alike that last week was a fluke…and then they proceeded to lose 37-19. A multitude of things went wrong this week, but there does seem to be some (very faint) light at the end of the tunnel.
A Miles Sanders fumble on the opening drive after just three plays set the tone for the rest of the game. Los Angeles jumped out to a quick 21-3 lead early in the 2nd quarter behind a pair of Goff to Higbee touchdowns and a Robert Woods carry. A 2nd quarter resurgence from the Eagles resulted in a score of 21-16 going into halftime, and they looked to be firing on all cylinders once again.
A quick stop by the Eagles' defense at the start of the 3rd kept their momentum going, and they were on pace for a long touchdown drive to give them the lead. Then, Wentz tried to force a pass into double coverage to Arcega-Whiteside (who hasn't caught a pass all season). It was intercepted, and the Eagles momentum was destroyed- along with their best chance to take the lead all game. The teams traded field goals to keep it close at 24-19. The Rams ended the game with two more touchdowns and (another) poor throw by Wentz for his second interception. Goff and Co. left South Philly with a 37-19 win – their first win over the Eagles since 2004.
And now, once again, Eagles fans everywhere find themselves asking the question- what went wrong? What's going on? Why is this, on paper, promising team, doing so poorly? The answer this week isn't as clear cut.
Let's start with the obvious. Carson Wentz needs to do better. He has the second lowest passer rating and is at the bottom in the NFL for most important stats for QBs, including pass accuracy and turnover worthy plays – and it can't be blamed on the offensive line this week. This level of play from a franchise QB, who is already getting paid as such (8th highest paid QB in the NFL), is not okay. Poor decisions, bad throws, and a lack of that magic that he displayed in 2017, has continued to plague him this season. Forcing bad throws on 3rd down instead of making the easy check down play to Miles Sanders or Boston Scott, and throwing bombs to Arcega-Whiteside instead of continuing the drive with short plays for solid gains, are just two examples of what is becoming a larger issue for Wentz. The Eagles will not win games against good teams until Wentz can eliminate these poor decisions from the game.
Also obvious (but less fixable), Philadelphia's linebacker group is one of the worst in the NFL, and they showed it last week. The starters at linebacker need to be benched. Even though it's only rookies behind them, it could result in finding some hidden talent at the position, which the Eagles defense clearly needs. The defensive secondary (with most of the blame falling on the Eagles linebackers) giving up three touchdowns (a career high) to average-at-best TE Tyler Higbee is all you need to see to make some changes at the position.
Despite the ugly loss, there were some bright spots. The o-line didn't give up a single sack the entire game, despite losing LG Isaac Seumalo to a knee injury. Lane Johnson had an amazing game, giving up zero pressures on 43 pass blocking attempts and was the highest graded offensive tackle in the NFL last week according to Pro Football Focus. After a rough opening drive, Miles Sanders was able to perform extremely well, getting a total 131 total yards and a touchdown on 23 touches. He was electric and showed that the offense can run through him. Jalen Reagor looked exceptional, catching all four of his targets for 41 yards.
The Eagles need to be better. End of story. Carson Wentz and the defense needs to fix itself before what should be an easy win against the Cincinnati Bengals. Optimism is scarce among fans for this football team right now, and with a tough schedule ahead (San Francisco, Pittsburgh, and Baltimore in Weeks 4-6 before two divisional matchups against the Giants and Dallas in Week 7-8) they need to use this game against the Bengals to figure out how to fix their mistakes. If they can't figure it out, this season, and the future of the Eagles, is in real danger.