Chiefs come back from ten down to beat 49ers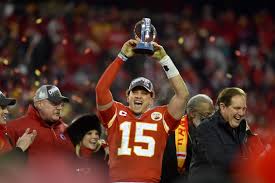 The Kansas Chiefs beat the San Francisco 49ers 31-20 on Sunday to win Super Bowl LIV in Miami.
The win is the second-largest comeback in Super Bowl history, as the Chiefs came back from a 10-point deficit and scored 21 points unanswered in the 4th Quarter. The Chiefs win also marks the first Super Bowl win as a head coach for Andy Reid, who previously held the record for the most playoff wins without a ring.
Chiefs QB Patrick Mahomes won Super Bowl MVP after his 114-yard, two touchdowns 4th Quarter that propelled the team to their historic comeback. Mahomes became the youngest player to win the award at 24 years, 138 days old. In Mahomes' two-year reign as the Chief's starter, he has won: MVP, Super Bowl 54, Super Bowl MVP, and thrown for 50 TDs and over 5,000 yards in one season. In addition, he made the Pro Bowl twice, finished first-team All-Pro, and became the first QB in postseason history to have three 10-point comebacks. Mahomes is the youngest player in NFL history to accomplish these impressive feats.
The Chiefs completed the third 10-point comeback in Super Bowl history, tied for the 2nd largest comeback in Super Bowl history. This also marks the second time that Kyle Shanahan has blown a huge lead in the Super Bowl, the first being the now infamous 28-3 Patriots comeback in Super Bowl LI, in which he was the offensive coordinator for the Falcons. Shanahan led offenses have now been outscored 46-0 in the 4th Quarter and OT in Super Bowls.
Notable performers from the game include Damien Williams (21 touches for 133 yards and 2 TOT) and Tyreek Hill (nine catches for 105 yards). Patrick Mahomes went 26/42 for 289 yards, two touchdowns, and two interceptions. He also had 29 yards on the ground and picked up another touchdown en route to his Super Bowl MVP honors.
This is the first Super Bowl that the Chiefs have won in 50 years, with their last win coming in Super Bowl IV (1970) against the Minnesota Vikings, snapping one of the longest title droughts in professional sports.