NFL Pro Bowl needs a renovation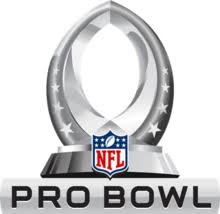 The NFL Pro Bowl is not worth having. Not even the players care about it, little to no fans care about the game. This trend continues across all major sports leagues in the United States. The players are more concerned with getting injured than the relatively small bonus the winning team gets. People care much more about the side games and competitions than the actual all-star games. So, what should the NFL do?
The first step towards recovering the Pro Bowl festivities: scrap the actual Pro Bowl game. There is no reason to continue having the Pro Bowl game when the game becomes players trying to protect themselves (rightfully so) and their big money contracts. So just scrap the game. It isn't worth the risk of losing these players to injuries for the subpar entertainment it provides.
The second step: create a celebrity game. Like the NBA Celebrity All Star Game, the NFL should use an 11-on-11 game, with an offensive and defensive roster pick for each team through fan and player vote. This game would be significantly more entertaining than the Pro Bowl game as it stands. Throw in a prize pool for charity, and there's a competitive and entertaining game in place of the antiquated and boring Pro Bowl.
Third, add in the more NBA style "mini-games". A field goal off from the league's best kickers, a throwing competition from non-quarterbacks, and maybe a one-on-one receiver vs. corner game. This lets us see direct competition from things that we've always wanted to see, not the usual obstacle course.
Fourth, use the event as a kickoff to Super Bowl week. Have the event in the same location as the Super Bowl and spread everything out over the weekend. Let fans come early, have live music and similar types of venues set up. Not only does this increase the entertainment value, it creates more revenue for the TV networks, the NFL, the host city and team, and allows more money to be donated to charity.
The NFL Pro Bowl isn't worth it anymore. So, let's get rid of it and add in entertaining events instead before the week of the Super Bowl, creating a more entertaining and safer weekend for all those involved.