Mr. April, 2017 – Evan Bittmann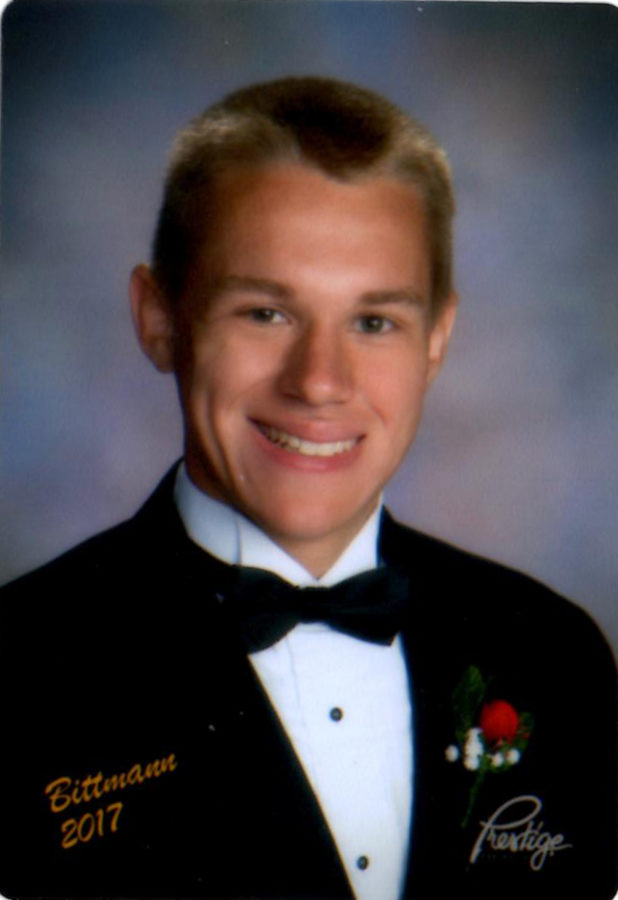 (Baby Picture G in Print Edition)
What charity have you chosen to represent?
22Kill. This charity helps raise awareness for veteran suicide prevention. Our veterans have put everything on the line for our freedom. We should do our part, and do everything we can to help them, so they won't have to suffer through hardships.
What would be your advice to underclassmen concerning high school?
Seize every opportunity you can; high school moves in the blink of an eye, so make sure that you get involved in every activity and opportunity that this school offers. Trust me, you won't regret it.
What quote best describes your outlook on life.
"I don't measure a man's success by how high he climbs but how high he bounces when he hits bottom." – Gen. George S. Patton
Favorite pick up line?
I would flirt with you, but I'd rather seduce you with my awkwardness.
If you could pick anyone other than yourself to win, who would it be?
I'd pick Noah to win. Why? Because, he's Noah. He's the sweetest and most caring guy in the world. You could be a total stranger and he would treat you like you've been lifelong friends.
Why should we choose you to be Mr. Washington TWP 2017?
I don't deserve to win over any of the other guys; all the guys are amazing, and they all deserve the chance to win. But, to answer your question, I suppose you should choose me to win Mr. Washington TWP because I'm practically a GQ model (haha).
What cartoon character do you relate to the most?
Hank Hill. Why Hank Hill? He owns a truck, I own a truck, he grills with propane, I grill with propane; we're practically twins.
Childhood aspiration vs. current aspiration:
When I was a kid, I wanted to be a fighter pilot in the Air Force. My current aspiration is to proudly serve my country in the United States Marine Corps.
What is your hidden talent?
I am very proficient in wiggling my ears.
Has the Mr. Washington Township nomination changed your life?
Being nominated to Mr. WT introduced me to a whole new group of amazing people. Through the past couple months, we have all come together and accomplished this amazing feat, and have made great friendships along our journey.
What is the number one thing you look for in a significant other?
The number one thing that I look for is that they are caring. People who care about others always have a true appreciation for the gift of life and always extend a hand to everyone they meet.
How do you want to be remembered at WTHS:
I would want to be remembered for all the accomplishments I made; all the years and commitment of band, Tri-M, and NHS. Most importantly, I would want to be remembered for all the accomplishments I made as Corps Commander in ROTC. Being Corps Commander was the highlight of my senior year, and it gave me the greatest opportunity I have ever had so far in my life to be a leader.
Favorite movie?
American Sniper
If you could change the mascot, what would it be?
A bald eagle wearing a red, white, and blue tuxedo.
If you could address any issue the world faces today, what would it be?
I would address the issue of the large number of homeless veterans in the United States, and how they are not receiving the help or treatment they rightfully deserve; they fought for our freedoms, and we should do everything we can so they do not have to live poor.
If you had the chance, what would you change about yourself?
12-foot-long beard.
If you could live anywhere other than the US, where would it be?
Trick question, the United States is the ONLY place I would ever want to live because it is the greatest country in all the world!
What teacher at WTHS has had the most impact on your high school career?
MSgt. Hood; he's been more than just a teacher; he has been a mentor of mine.
What person in your life has had the most impact on you as a person?
My dad has had the biggest impact on me as a person. His life lessons and wisdom he has shared with me throughout my entire childhood molded me into the man I am today.
What are your aspirations and plans for after graduation?
I am hoping that I get accepted into the United States Naval Academy. If not, I am enlisting in the United States Marine Corps.
If you could be any kitchen appliance, what would you be?
I would be a cutting board, because I get stabbed in the back often.
If you were a superhero, what would your name be and what would be your greatest weakness?
If I were a superhero, my name would be MisterMasterSergeantHoodCoachman, and my greatest weakness would be having to spell out my superhero name in less than 5 seconds.
Favorite video game?
Pacman
If you could create a class at WTHS what would it be?
A class on how to grow a beard, because I can't do it on my own.
Favorite animal?
Tiger
If you could have any kind of accent, what would it be?

Scottish, because no one has a better native tongue.
Favorite ice cream flavor?
The cold kind
Describe your dream vacation:
I would want see all 50 states in 50 days.
Describe your dream date:
Just a simple picnic, on the moon.