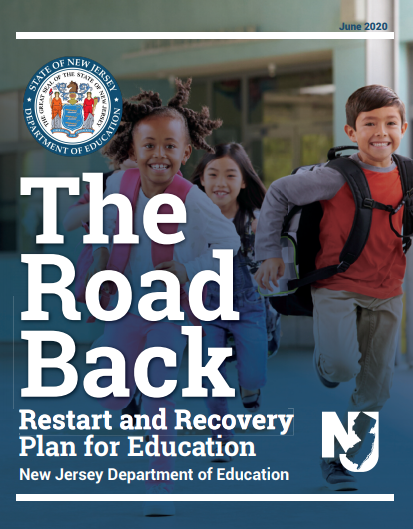 NJ Department of Education
One of many effects of the COVID-19 pandemic on Washington Township High School students is the elimination of marking periods. Previously, an academic school year at WTHS was made up of four marking periods, two of which were contained in each of the two semesters. Additionally, midterms and finals were held at the end of each semester, midterms after the first semester and finals at the conclusion of the second semester.
WTHS high school principal, Mr. Jonathan Strout, cites these tests played an essential role in the reason for the change. Strout explained, "The main driving force was to do whatever [we] could do to remove barriers to increase instructional time. We all know whether intentional or uninwtptentional, when you have shorter grading time periods i.e. marking periods, it's not uncommon for teachers to have assessments that back right up the very end."
To alleviate the stress that both teachers and students face, this adaptation allows more time for teaching and less worry about meeting grade deadlines. During years prior, there would be close to two weeks in total of test taking with midterms and finals. Now, teachers get to focus on teaching the material to their students rather than trying to fit in one last test before the semester's end.
According to Strout, "the reason being, when we look at instructional time lost, every time we give a two-hour test, we have those midterm days where we miss four days just to give an assessment… it adds a tremendous amount of burden on the students. It creates high, high levels of anxiety and to what. For what benefit? And I don't really know I have a valid answer."
Mr. Strout states the elimination of midterms/finals correlates with the switch to semester-based grading due to their similar benefits. Examples include the reduction of stress on students, allowing teachers to focus on instruction rather than preparing assessments, and acquiring a week's worth of time for more learning to occur.
Whether this new academic schedule will continue on after this year or not remains to be seen.
According to Strout, there hasn't been much concerning feedback from parents. He also mentioned, "It wouldn't surprise me if we stayed [in] this concept of semester based grading."
Though the school year is only reaching the halfway point, there have yet to be any major problems with this change. Sophomore, Sean Parchesky expresses his approval by saying, "I really like the change from marking periods to semesters. It gives myself and others more time to bring up grades and it allows my teachers and I to have more flexibility with work."
To find some more general information addressing this change, look to page 138 in the district's "Restart and Recovery Plan."